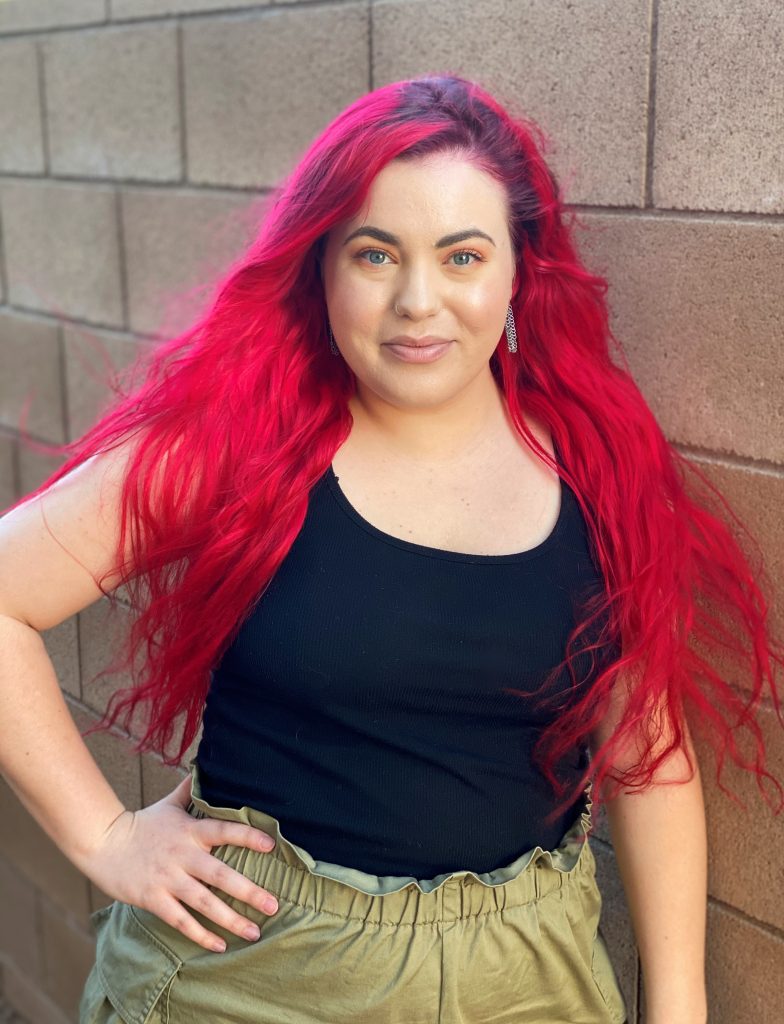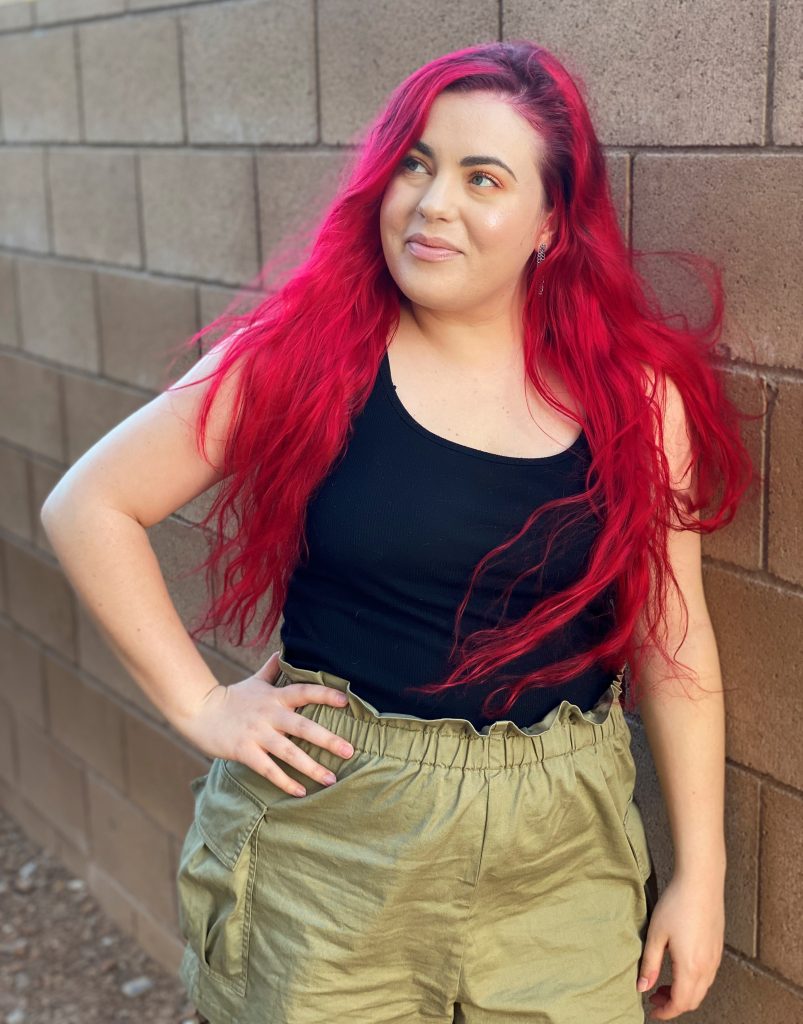 I'm giving away all of my secrets this year! Just kidding. They're not secrets, and I'll tell you anything you would like to know. All you have to do is ask! I can't stand when women get so defensive and secretive about what products they use. You're not in the FBI, and this is not a classified case. Calm down!
I have had my signature red hair for over two years, and it's probably the number one question I receive: HOW DO YOU KEEP YOUR HAIR RED? I wish I could give you one, generic answer, but truthfully, it's a combination of several things.
Keep reading to find out my biggest tips and tricks for managing color treated hair!
Switch to Gentle Shampoos:
When I first dyed my hair, I thought fancy shampoos were a gimmick. I assumed it was a stunt to make us spend more money, but I was wrong. Very wrong. I noticed that regular shampoos and conditioners stripped my hair much faster, and left my hair dryer than before. After many failed attempts, I discovered Joico K-PAK Color Therapy. It's gentle and smells INCREDIBLE. I have struggled with dandruff and an itchy scalp for as long as I can remember. It is really soothing, luxurious and does not aggravate my skin. Joico is a pricier option so I like to wait for Ulta's Jumbo sale. Several of their higher end hair care is 50% off during this event! One of their giant shampoo bottles will last me a LONG time, especially if you don't wash your hair everyday. Speaking of, that leads me to my next tip…
DO NOT WASH YOUR HAIR EVERYDAY:
I know, I know, I know. You hear this all of the time, and if you're not already practicing the habit, it may sound really gross. It takes quite some time for your hair (and you) to adjust to the lifestyle change, but I promise that it is necessary. It isn't as detrimental as it sounds, and will keep the color from stripping so quickly. I only wash my hair 1-2 times a week now. If you would like a post about ways to style dirty hair, let me know!
Let Your Hair Air Dry:
This may seem like a DUH factor, but I still wanted to quickly mention it. I understand that some days you NEED to blow dry your hair. In that case, at least use a heat protection spray. I almost always wash my hair at night, and put it in a loose braid. When I wake up, I have effortless beach waves! If you need your hair to air dry in a hurry, consider using a microfiber hair towel. There are many options available, but I use Turbie Twists.
Wear a Shower Cap:
Even though I stopped washing my hair everyday, I still shower daily. Did you really think I only showered 1-2 times a week? NASTY. I used to toss my hair into a bun, and hope for the best. I learned from my old ways, and now I wear a shower cap to protect my hair from the water.
Dry Shampoo is Your Best Friend:
Your hair is inevitably going to get oily, and dry shampoo will save the day! I am still in the process of finding a more affordable option, but many of you already know I love the Drybar Detox Dry Shampoo. It makes your scalp feel fresh, and it smells divine.
Utilize Deep Conditioners and Hair Masks:
Dyeing your hair is extremely drying, even if you have it done professionally! I have learned that regular conditioners are not strong enough, and have switched to ONLY using deep conditioners. Here are some of my favorites: It's a 10 Miracle Hair Mask, Kristin Ess Strand Strengthening Reconstructive Moisture Mask, and Hask Unwined Deep Conditioners. I also regularly apply a hair mask in addition to a deep conditioner. I am currently making due without my favorite hair masks because #quarantinelife, but I love the Olaplex No. 3 and Hot Oil Treatments from Lush!
Use Color Enhancers:
I have heard some people place a couple drops of their hair dye into their conditioner or shampoo to keep their color vibrant. Truthfully, I have never tried that approach, and would rather use Keracolor Color + Clenditioner. It redeposits the dye into your hair, and significantly prolongs its life. They suggest using Keracolor on its own which is not my preferred method. I like mixing it with a deep conditioner, and letting it soak for as long as possible. I would consider this my "secret" product, and the key to keeping my hair vibrant.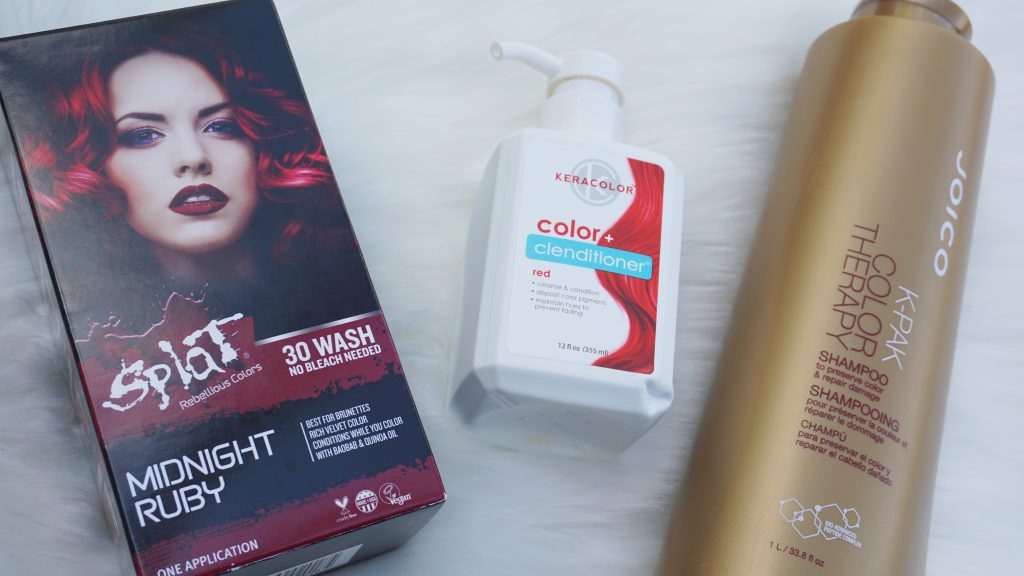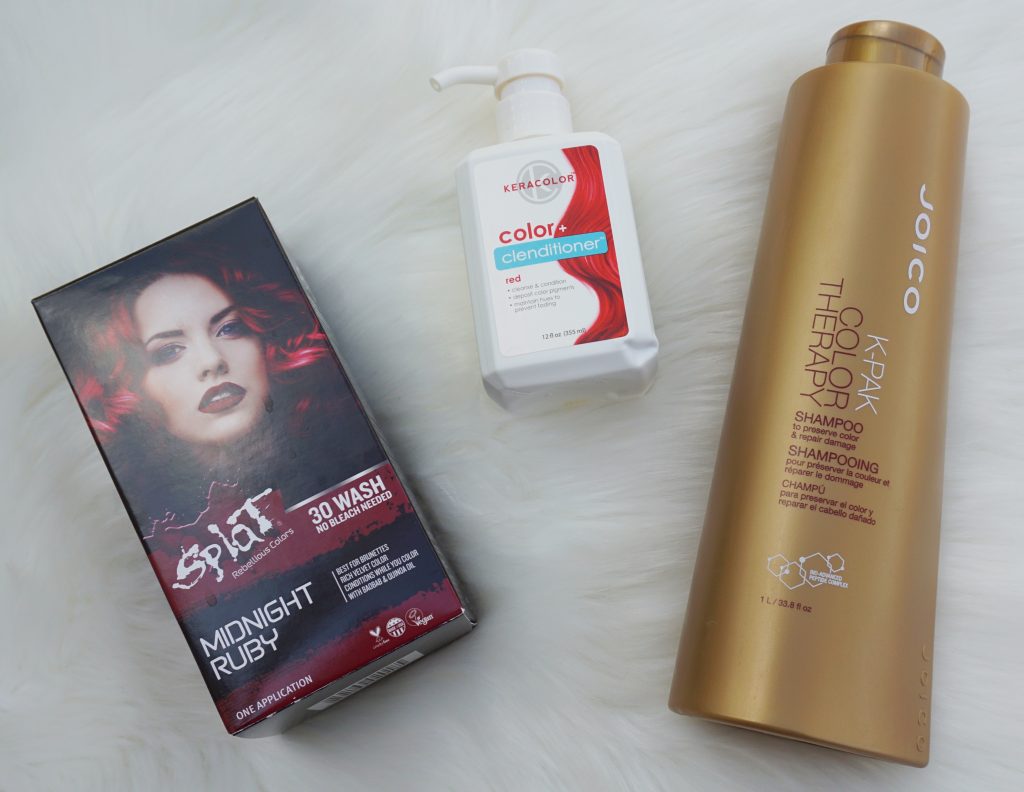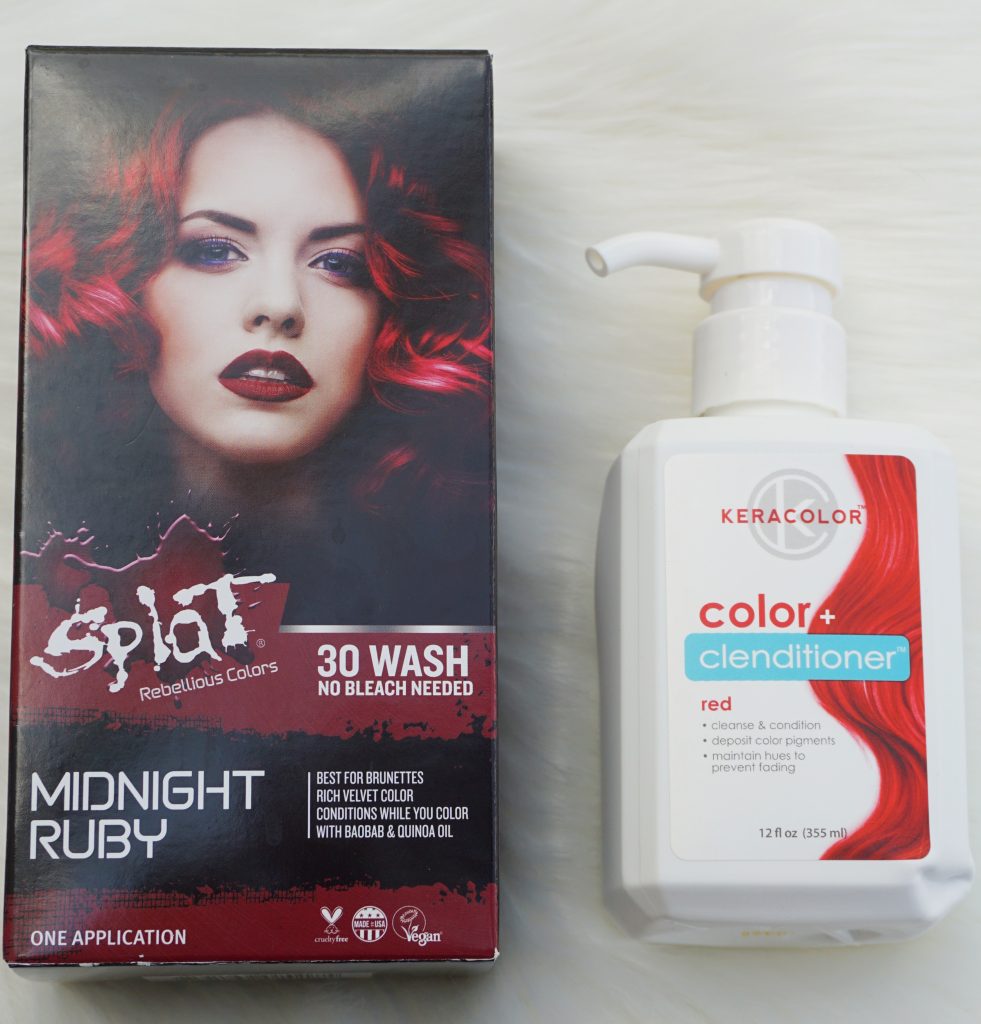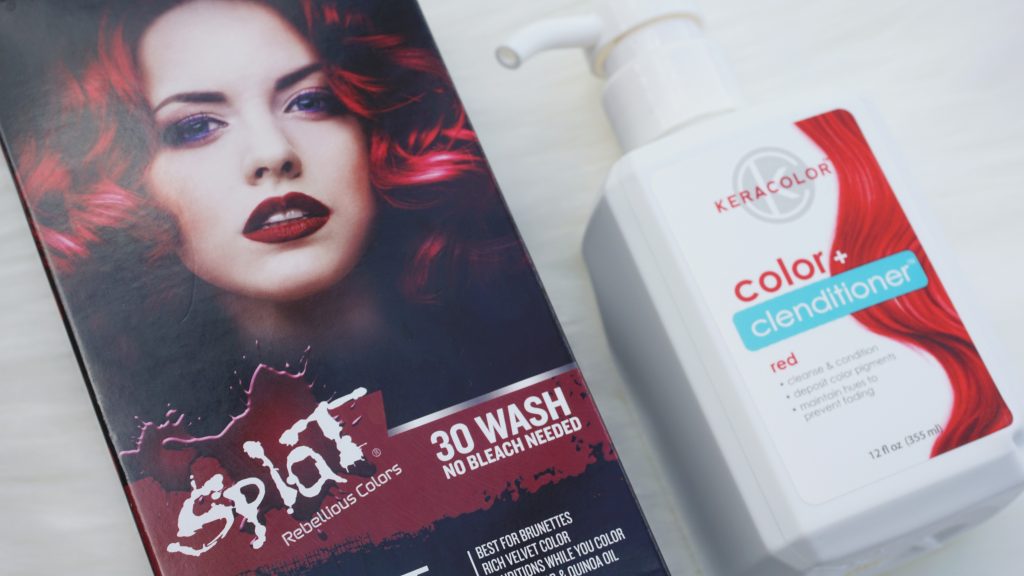 Now for tips on the actual dyeing process…
I am not loyal to one particular company. I have tried Manic Panic in Vampire Red, Arctic Fox in Wrath, and am currently using Splat in Midnight Ruby. I am most familiar with the Manic Panic formula, but prefer Splat's applicator. They are all pretty much the same shade of red, and given the current pandemic, I am grateful for any hair dye I can find.
Also, I don't do it often, but when I bleach my roots, I use the Manic Panic Flash Lightning Hair Lightening Kit.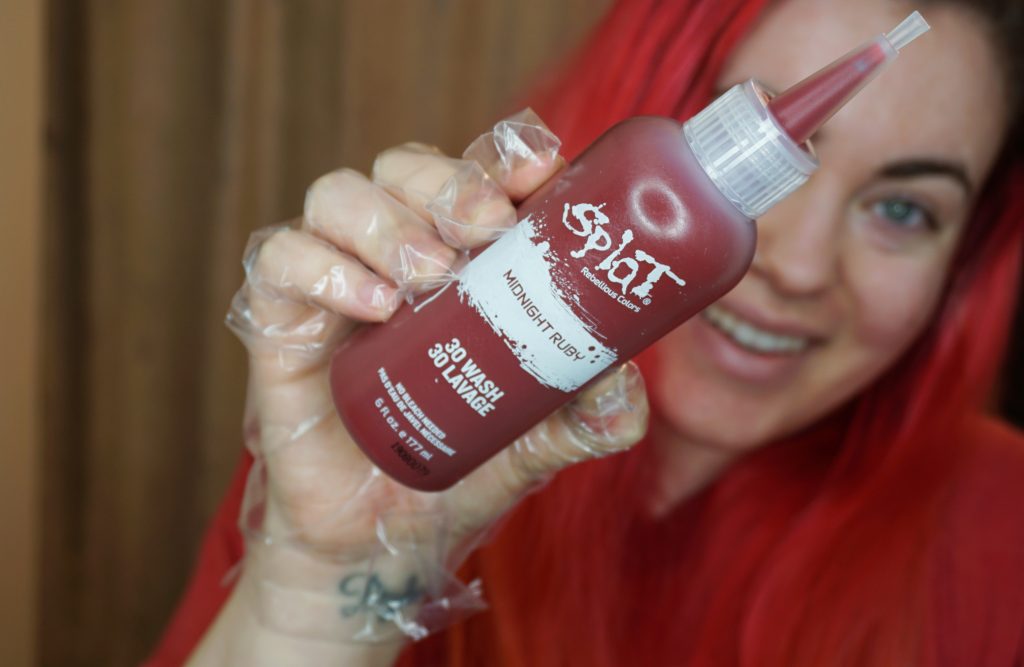 Oil Your Face Before Applying Dye:
This tip applies to any hair dye, but it's VITAL for red. It's quite literally do or dye. HA. Get it? I'll see myself out… You can use any oil you have on hand, but my go-to is jojoba. I slather my face, ears, neck and arms in it to prevent staining. No matter how hard you try, dye WILL splatter on your skin, and the oil makes it easy to remove.
Always Use Gloves:
I recently saw someone applying hair dye without gloves, and it was torture. I was internally SCREAMING. Unless you want me breaking quarantine and banging on your door, please use gloves when dyeing your hair. I always wear vinyl, non-latex gloves because it doesn't pull on my hair like regular plastic gloves… and because I'm not a psychopath.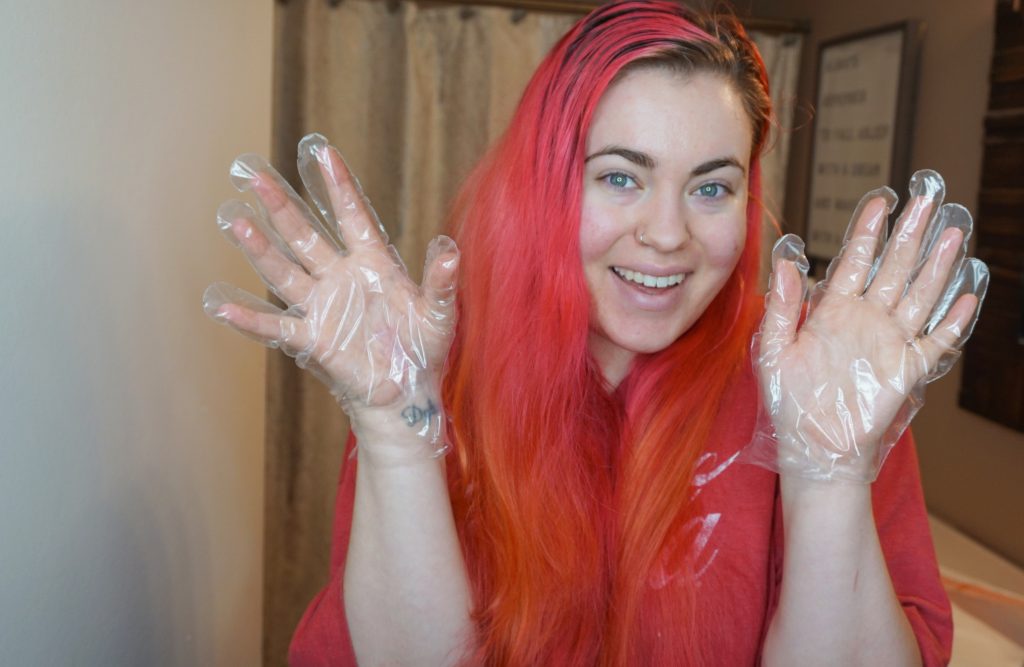 Leave the Hair Dye on Long Enough:
Splat, Manic Panic and Arctic Fox recommend to let it sit for roughly 45 minutes. Maybe an hour. Yeah, that's not enough for me. I leave my hair dye on close to two hours, and it makes the color more vibrant.
Wear a Designated Hair Dye Shirt:
The shirt that I always use when dyeing my hair is actually my hubby's at-home project shirt. It was already stained and damaged so it was the perfect choice. Hair dye will creep onto your clothing no matter how cautious you are so please don't wear a shirt you love.
Avoid Chlorine:
I'm being annoyingly optimistic, and assuming we will be free to swim this summer. If you have a pool in your backyard, let it be known that I am jealous. 😉 We have a nice, community pool, but it is currently closed indefinitely. Let's live in my fantasy for a moment! I know how tempting it is to dunk your whole head under water in the pool, but resist the urge. Chlorine is terrible for hair in general, and it is detrimental to hair dye. I put my hair in a knot on top of my head, and glare at anyone who even thinks about splashing me. That being said, please enjoy yourself! Don't let a little hair damage keep you from having fun.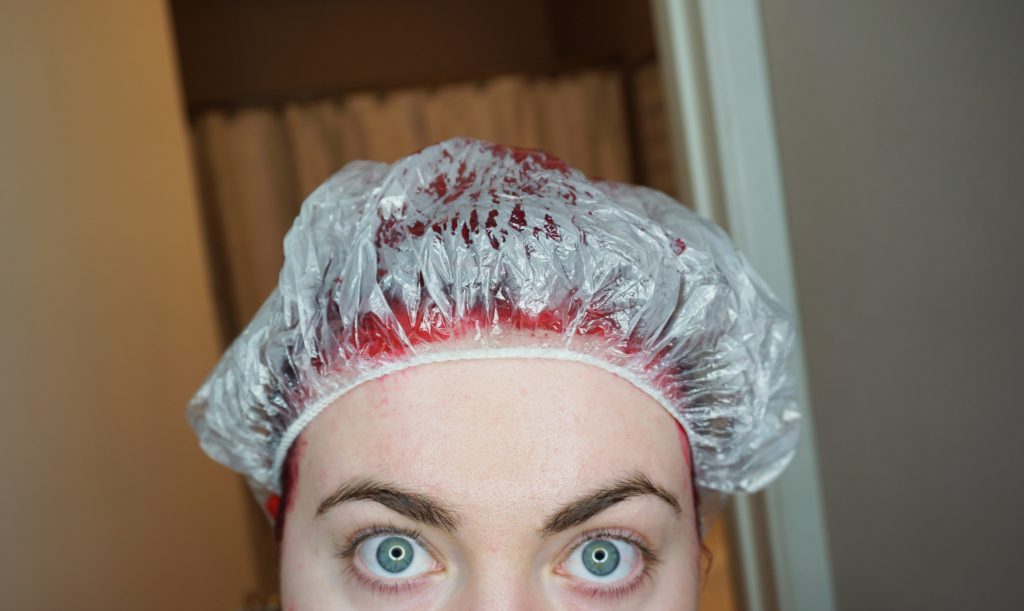 If you don't look THIS crazy when you're done, you did something wrong. 😛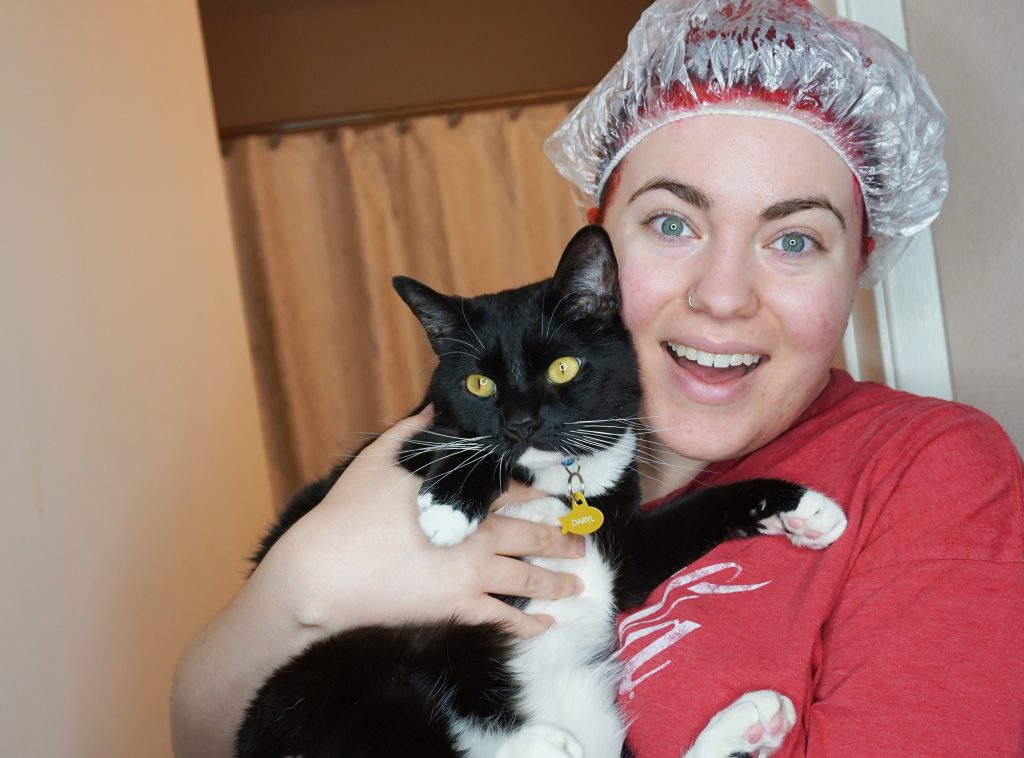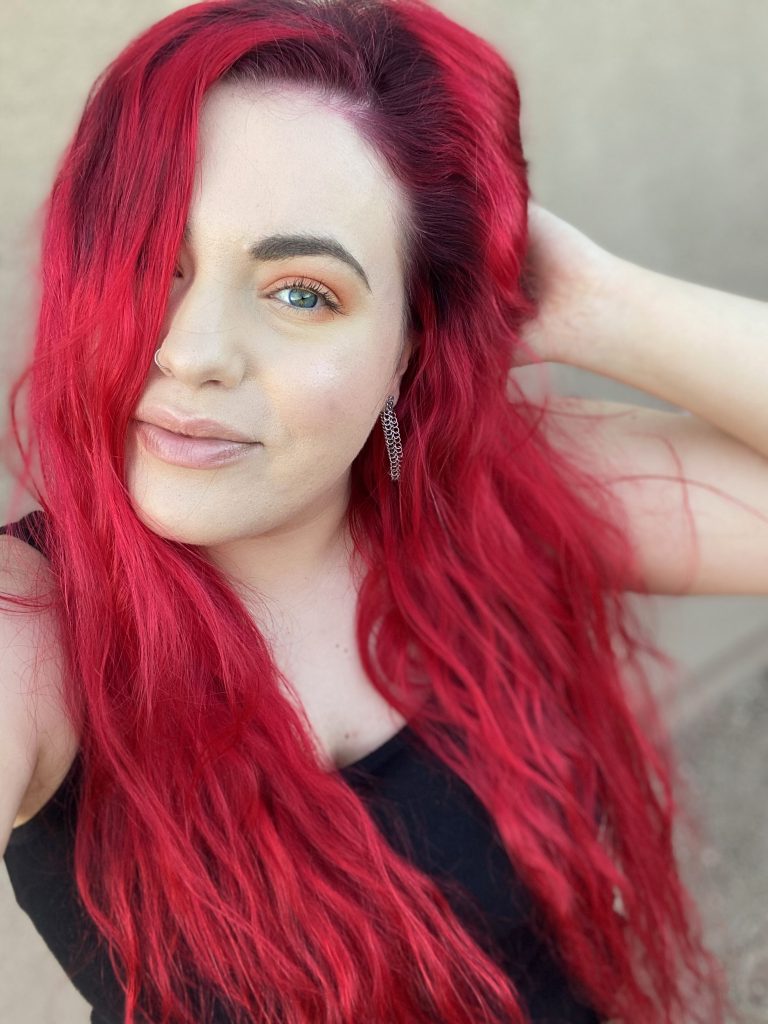 The end result!
I hope you enjoyed learning some of my hair care secrets, and found them somewhat helpful!
What are some of your favorite tips and tricks for color treated hair? Have you tried any of the products I mentioned?
All my love,